Marathon man Chris Patterson aiming to run 52 marathons in 52 weeks in 2018 in support of international charity Hope for Children
Published on Wednesday, 7th February 2018
Marathon man Chris Patterson aiming to run 52 marathons in 52 weeks in 2018 in support of international charity Hope for Children
Written by ##author:callumpatterson## for DonateToday
PUBLISHED: ##published## | UPDATED: ##updated##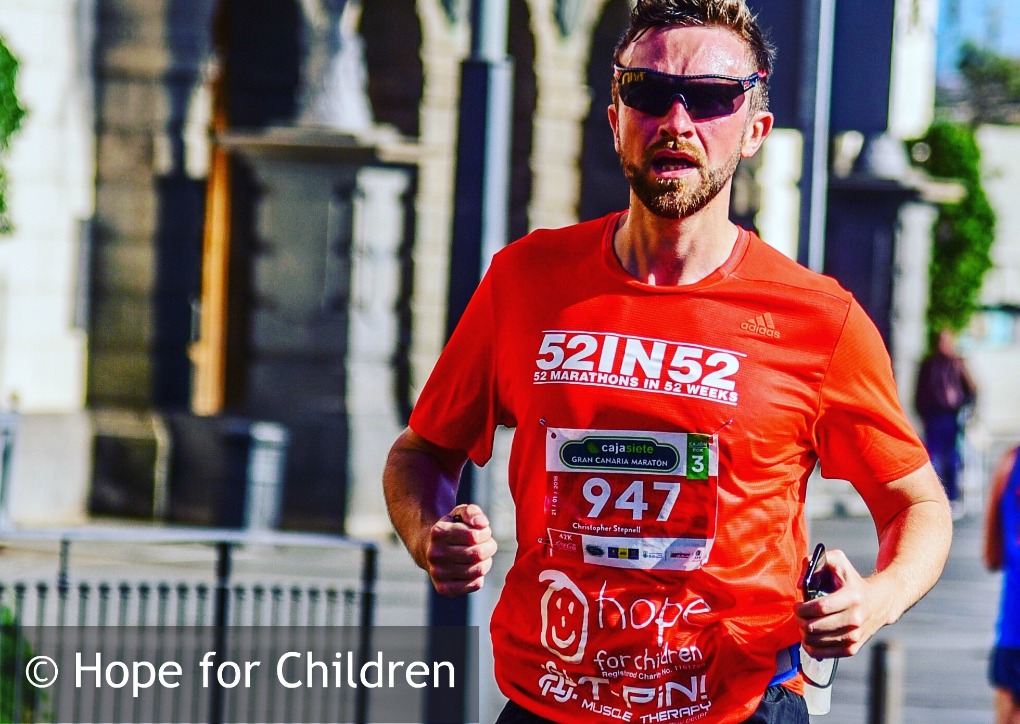 Chris Patterson running the Gran Canaria Marathon
Chris Patterson, of Daventry in Northamptonshire, is aiming to complete 52 marathons in 52 weeks this year and hoping to raise at least £12,000 for international children's charity Hope for Children in the process.
Chris, who has already completed the London Marathon and the Marathon des Sables – oft referred to as 'the toughest footrace on earth' – in recent years and hit upon the idea for a year-long challenge when trying to come up with inspiration for new fundraising endeavours.
'I felt I needed a new challenge for 2018,' he says, 'And came up with 52 in 52. People kept telling me I've lost the plot and now I've done the first three, I realise they were right.'
Chris' 52 in 52 challenge has already taken him to Anglesey, Gran Canaria and Telford, and his schedule will see him visiting locations such as Scotland, Spain and China over the course of the year.
Most races will take place over long weekend, although the runner will attempt to tackle five marathons in five days in locations throughout Kent between the 10th and 14th of February, ending with the Valentine's Day Marathon.
When Chris has completed 52 marathons in 52 weeks, he will have run over 1,362 miles – roughly the distance from Hemel Hempstead – where Hope for Children is based – to the coast of Africa – the continent on which many of charity's projects have a profound impact.
'I first became aware of Hope for Children when I ran the Marathon des Sables for them in 2016,' Chris explains. 'One of the first things that attracted me to Hope was the fact they were one of the smaller charities and I felt money raised would make a real difference.
'No matter how difficult it gets, it's important I remember the work that Hope are doing and how we are helping to improve the lives of others.
'It's been great to get involved with Hope's Head Held High appeal and I regularly read the stories on the Hope website for motivation. Any extra support you can give me and Hope is very welcome.'
The funds raised by Chris will support the charity's work all over the world to help vulnerable children – particularly orphans and children living in extreme poverty – to experience a happy, healthy childhood.
'When Chris first came to us with his idea last year, we weren't sure if this was even possible,' says Murielle Maupoint, the charity's CEO. 'But once he took us through his training and race plans, and most importantly showed his desire and passion to raise funds for our life-changing work, we got fully behind him.
'To complete one marathon is a huge achievement; to complete 52 is extraordinary. Chris is a true Hope Hero.'