Bob Mortimer visits Cats Protection's National Adoption Centre to meet the moggies looking for a new home in time for Valentine's Day
Published on Thursday, 8th February 2018
Bob Mortimer visits Cats Protection's National Adoption Centre to meet the moggies looking for a new home in time for Valentine's Day
Written by ##author:callumpatterson## for DonateToday
PUBLISHED: ##published## | UPDATED: ##updated##
Bob Mortimer recently visited Cats Protection's National Adoption Centre
The cat-loving comic Bob Mortimer already has two cats – Goodmonson and Mavis – but visited UK charity Cats Protection's National Adoption Centre to meet some felines still in need of a good home.
For a number of months now, Bob has been 'selling' cat names via his Twitter account ('ROMANTIC CAT NAMES FOR SALE…Kissy Lipsauce…£8.00p.a.') and has very kindly agreed to allow Cats Protection to use some of his creations to name some of the moggies in their care.
This kind of support is particularly welcome, as Danielle Draper, Manager of the centre explains: 'Sadly, with hundreds coming through our centre each year, it can be hard to think up original names for them all.'
'I'm a big cat lover and have always had them in my life so it's great to be supporting Cats Protection,' Bob says, 'Which does so much to help unwanted moggies.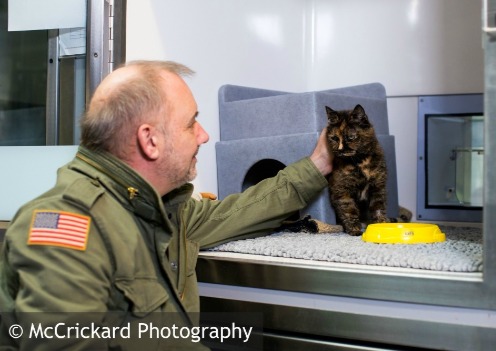 Bob Mortimer and Fond Margaret at the Cats Protection National Adoption Centre
'I have two cats at the moment, called Goodmonson and Mavis, but I love naming cats and am always calling them different things every day.'
As part of his support for the charity, Bob recently visited its National Adoption Centre and met some felines still searching for a loving home. 'I've loved seeing all the cats at the centre,' he comments. 'It's a bit sad, but they're well cared for and it's nice to think they'll all be going to lovely homes.'
A few felines named by Bob – Tender Gary, Softy Pinkpowders, Derek Snuggles, Carol Niceface, Kedgeree and Candles – have already found loving homes. Gary's new owner is such a huge fan of Bob's that he has chosen to allow his new cat to keep the name given to him by the comic and has set him up with a Twitter account.
Some of the cats named by Bob and currently available for adoption through Cats Protection though: Fond Margaret – a former stray, estimated to be around 10 years old; DJ Loveham – a former stray found in the Tunbridge Wells area who loves attention and is very talkative; Ron Com – a cat estimated at around six years old, found in Basildon; and Lacey Bedspread – a shy female cat looking for a calm home.